Last Minute Bookings
Please be aware that these bookings are subject to confirmation. If this is a same-day or next-day booking, there is a reasonable chance this will not be confirmed. For bookings that are confirmed, there will be no cancellations or refunds.
Restrictions
Minimum weight is approx. - 130 lbs
Maximum combined weight is approx. 350 - 400 lbs. (depending on conditions) ·
Weight limits fluctuate throughout the day due to wind and sea conditions. Some tandems/triples may have to fly separately; as well as some singles may have to fly tandem, this is at the captains? discretion for safety.
Flyers must be at least 6 years of age. Anyone between 6 and 12 must be accompanied by an adult, parent or guardian of 18 years or older.
Persons that are physically challenged must be able to walk down the dock and board our shuttle vessel, once onboard the shuttle vessel they must be physically able to transfer to the Parasail vessel with minimal or no assistance. The shuttle vessel and Parasail vessels are not wheel chair accessible.
It is not advised that anyone with back, neck or any recent injuries Parasail or even go out on the Parasail boat as an observer.
Women who are pregnant or believe they may be pregnant will not be allowed to parasail. Also since the boat ride can, at times, be extremely bumpy, pregnant women will not be able to ride along as observers.
Frequently Asked Questions
It it safe?
Yes, parasailing is completely is one of the safestest water activities you can do.

Do I need any prior experience to parasail?
No, if you can walk onto our shuttle boat by yourself, transfer over to our Parasail boat by yourself and if you can sit down, you should be able to Parasail.

How does the whole thing work? Do we have to get wet?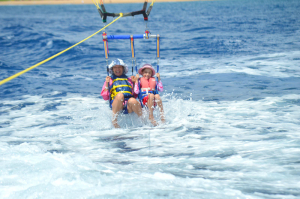 Each Parasail boat has a self contained launch and recovery system on the boat. You simply take off and land directly from the back of the boat. You don't have to get wet. Getting wet can be half the fun. We do offer touch 'n go's, where we slow down and touch your toes in the water.

Are there any age or weight restriction to parasail?


We take children as young as 6 years old and have also flown some 95 years old. Our minimum weight to fly alone is around 130 lbs., but it does increase and decrease throughout the day. The maximum combined weight is approximately 450 lbs., but it also goes up and down throughout the day. Wind and weather conditions change and will determine if individuals can fly single or (tandem) together. Children 6 - 12 must fly with an adult parent or guardian 18 years or older.

How long is each trip? Each flight is 8 ? 10 minutes long. The whole adventure once you leave the dock is about 1 hour.

Can two or three people fly together?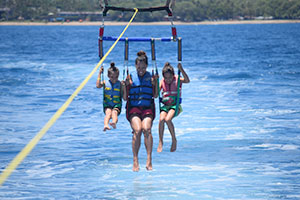 Yes we do allow tandem (2 people together) and also triple flights (3 people together). All tandems and triples are done at the captains discretion. Wind, sea and customers combined weights are also contributing factors.

How high do we go up when we fly?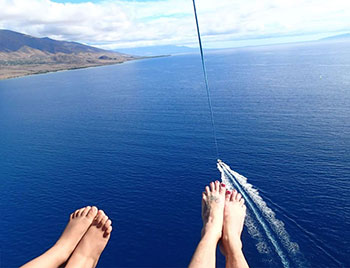 We have two options for our customers. The standard flight is 800 feet of line. The deluxe flight is 1200 feet of line. On average, our 800 ft. parasail flights reach 38 stories off the water, and the 1200 ft. flights reach about 50 stories off the water. It is possible to see the curvature of the earth on any flight with the right wind, ocean condition, boat traffic and other factors.

Are there sharks in the water that might bite me?
No one parasailing has ever been attacked by a shark or any other fish. Parasailing takes place on the Pacific Ocean, and sharks do live in the ocean, but, we can confidently say they have never been interested in parasailing.

What happens if the tow line snaps or the boat breaks down?
To ensure this never happens, we insist on a rigorous maintenance program for all our equipment. In the unlikely event of problems with the boat or tow line, the parasail would gently float down to land on top of the water.

What kind of training does it take to become a Captain?
Each of our captain has a Masters license from the United States Coast Guard. It takes a minimum of two years of 'sea-time' just to be eligible for this exam. Each year of sea-time takes about 18 months working as a full-time crew member or deckhand.

What if I am pregnant?
Unfortunately our Insurance will not allow anyone that is pregnant to parasail or even go on the boat as an observer. Please come back and fly with us at a later time.

What if I have back, neck or spinal injuries?
Unfortunately do to the bumpy-ness of the boat ride we do not suggest you parasail or ride along as an observer.

What if we are physically challenged, can we parasail?
That depends on each individual?s abilities. To fly you must get onto the boat. Our shuttle boat loads from our dock and requires 3 steps up and down to the shuttle. You will then transfer from our shuttle boat to our Parasail boat by stepping up 3 stairs and then back down 3 stairs. Once onboard the Parasail boat you will be harnessed up and will need to walk about 10 feet to the flight deck while climbing up 3 steps. If you can manage these steps on your own, you can Parasail. Our crew can assist but are unable to physically carry passengers.

Can we take a camera on the boat or up in the air?
Please feel free to bring a camera or a video camera on the boat. However, we only allow waterproof or disposable camera up in flight, for obvious reasons.

Is there a photo package we can purchase?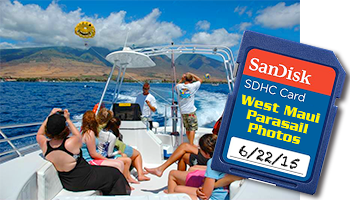 We offer a Digital Photo package of 30 ? 50 pictures. We take pictures on your take - off and get the close-up shots, touch-n-go pictures, up at elevation and also during the landing. We give you a SD -Card of all your pictures that you get to keep and do with as you choose.

What should I wear parasailing?
We suggest since the air and ocean temperatures are so warm in Maui that you come prepared to fly in your bathing suit. You may wear your tux or evening gown if you prefer.

Are reservations recommended?
Yes, due to the popularity of parasailing, and limited space available, we suggest making your reservations 1-3 days in advance. In the summer we are often booked up two days in advance.

What is your cancellation policy?
We require 48 hours notice of a cancellation for a complete refund.