We want you to love Maui as much as we do, so we partnered with a number of tours and excursions to provide you the best experience. We may make money when you click on the links.
Kapalua Bay is our #1 pick for best beach for kids on Maui. With calm waters, white-sandy shores, and great snorkeling, Kapalua Bay calls to kids all ages. However, it is not the only one great for children. Some of the best beaches for families can be found here on Maui. Read on to discover our top 5 family-friendly beaches, as well what to consider while planning your day.
E ko mo mai!
Best beaches for families
Kapalua Bay, Kapalua - Best overall
Baby Beach, Pā'ia - Best on the North Shore
Hāmoa Beach, Hāna - Best on the Road to Hana
Kama'ole Beach Park, Kihei ("Kam I", "Kam II", "Kam III") - Best on the South side
Pu'unoa Beach (Baby Beach), Lahaina - Best for young kids
Kapalua Bay, Kapalua - Best overall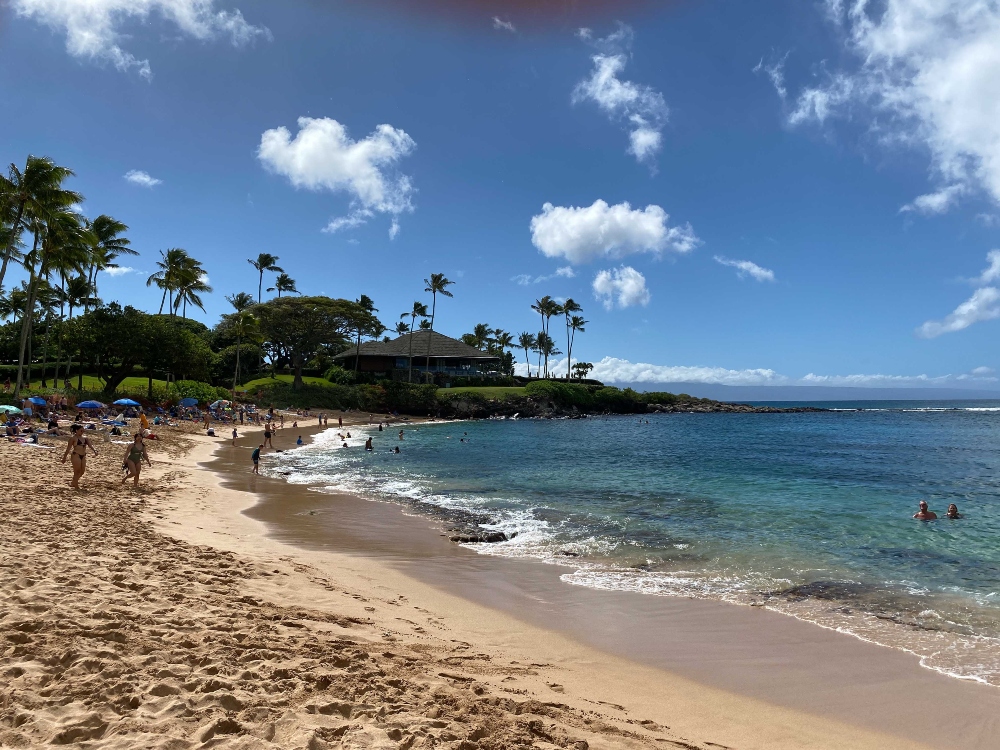 It is no mistake that Kapalaua Bay has been named America's best beach on more than one occasion. The half-moon bay is protected by two ancient lava flows that jut into the ocean. A sprawling reef system extends from inside the bay out to sea. Crystal clear and calm water make this beach the perfect place to snorkel and swim. The postcard worthy shoreline has powdery white sand dotted with towering palm trees. Should you get hungry, a nearby snack shop serves both food and drinks. Kapalua Bay is the perfect beach to create memorable moments with your family!
What to consider:
There is public parking nearby, both paid and free. Arrive early to secure your spot.
No lifeguard on duty.
Kapalua Bay is a favorite of many and can get very crowded.
Public restrooms and showers are accessible at the top of the beach path.
Baby Beach, Pā'ia - Best on the North Shore
Let's holoholo to the other side of the island. The North Shore's Baby Beach in Pā'ia is a nestled at the west end of Baldwin Beach Park. Protected by a surrounding reef, the lagoon has calm waters and sandy shores. If you are looking for a protected place for your keiki to swim and play, Baby Beach is the spot! During the winter months, North Shore swells come over the reef to create the perfect conditions for those wanting to learn how to boogie board or body surf. Baby beach is also a great place to see some of Maui's oldest and largest Green Sea Turtles. Keep in mind, the Hawaiian Green Sea Turtle, or Honu, is protected by Hawaii State Law. It is recommended to keep a distance of 10ft, or 3 meters, while admiring these gentle giants.
What to consider:
Be aware of the current that runs from the west to east. Generally, the pull isn't much cause for concern; you will find many beach goers enjoy riding the stream.
Baby Beach is about a .5 mile walk from the Baldwin Beach parking lot.
Closer parking is available at the surrounding neighborhood, Spreckelsville. Street parking is available on Kealakai Pl. There is also a dirt lot on Pa'ani Pl.
North Shore Maui is famous for gusty trade winds. Be sure to take note of weather conditions before planning your trip. A relaxing family beach day can easily turn into a day of chasing umbrellas and rubbing sand out of your eyes. Pro tip: Pā'ia's palm trees never lie – if they are blowing, it is safe to assume the sand is too.
The nearest place to rinse and use the restroom is located at Baldwin Beach Park. Pro tip: Fill gallon jugs with water and keep them in the car. Many of Maui's best beaches and waterfalls do not have public showers.
There are no lifeguards at Baby Beach. The nearest lifeguard tower is at the entrance of Baldwin Beach Park.
Hāmoa Beach, Hāna - Best on the Road to Hana
The Road to Hāna rates high on the list of things to do on Maui, known for 52-miles of switchback roads, curbside waterfalls, and captivating views. But what many visitors often miss is one of Maui's best and most kid-friendly beaches. Hāmoa beach is located just past Hāna town. The crescent bay of silvery sand and azure waters is a great place for keiki to swim and explore. Little architects will enjoy building sandcastles in the fine black and white sand that extends into the sea. Beyond the sandbank is a surrounding reef; a great place for advanced snorkelers to admire tropical fish and sea turtles.
What to consider:
There is no lifeguard on duty. Always keep an eye on your kids and changing water conditions.
Public restrooms, showers and a covered pavilion are on site.
The outer-lying reef generates both a point and shore break. Large sets are known to roll into the bay, especially later in the day and during the winter months. If you are a confident swimmer, grab a boogie board and have some fun! Pro-tip – The west end of the beach has calmer waters. This end of the beach is where most families with small children post up.
Street parking is available at the top of the beach entrance.
Kama'ole Beach Park, Kihei ("Kam I", "Kam II", "Kam III") - Best on the South side
Kama'ole Beach park is ideal for family beach days! Comprised of three different beaches "Kam I", "Kam II", and "Kam III", the 1.2 mile stretch of sand and sea has everything you could wish for; swimming, snorkeling, tide pools, & playgrounds.
Located directly off South Kihei Rd., Kama'ole Beach Park is easy to find and easy to get to. With ample street parking and parking lots, accessibility makes these beaches a favorite of many.
Enjoy breathtaking views of Molokini Crater and Kaho'olawe. During whale season (November – March), Humpbacks will put on a show for beach goers. Don't forget your camera!
Kama'ole I (Kam I), also known as "Charley Young Beach," is a beautiful stretch of white sand and calm waters. The north end of the beach is a great area to snorkel and explore, showcasing healthy reefs and ancient lava flows. Should you venture off the sand and on to the rocks, you will find tide pools, or Keiki Ponds, for kids to play in. Families will enjoy searching for sea treasures and red 'A'ama shells amongst the black rocks.
Kam II also has sandy shores, calm waters and great snorkeling. Trails through Nuapaka will lead you from the street to the beach. A grassy lawn overlooks the south end; a great place to set up a picnic or get out of the sun.
Kam III, the most southern of the beaches, is the smallest of the three. Kam III has a consistent shore break making it a great place to boogie-board or body surf. What Kam III doesn't make up for in size, it makes up for in facilities. There is a playground, a large parking lot and a huge grassy lawn. Numerous restaurants and rental shops are also within walking distance.
What to consider:
Lifeguards are on duty at all three beaches.
Public restrooms and showers are available.
Though the water conditions are relatively calm, it is not unusual for large swells to roll though south facing shores. Stay up to date on weather and surf reports here.
A Kama'ole beach day is a great opportunity to bust out the beach umbrellas or tents. Sunny South Maui is known for its heat. Wear a lot of strong, reef safe sunscreen (30+ or more )and bring the shade.
Pro-tip: If you plan a full day at the beach, arrive early to grab a spot on one of the grassy lawns. There you will find picnic tables and trees.
Keep an eye on the tide. Mid-day, the tide rises quickly. Set up near the top of the beach to avoid getting your towels soaked and toys lost by rising waters.
Kihei's beaches are a favorite of many, including people who enjoy having a few too many. Be mindful of vagrants. It is never recommended to stay at any of Maui's beaches after dark. As always, hide your belongings & lock your cars.
Pu'unoa Beach (Baby Beach), Lahaina - Best for young kids
Lahaina's Pu'unoa Beach (aka Baby Beach), is probably Maui's best beach for the littlest swimmers. Protected by a sprawling outer reef, Pu'unoa Beach has glassy and shallow waters. It is the perfect place for a low-stress beach day.
The beach itself is relatively small, featuring white, compact sand speckled with bits of broken coral and seashells. A great spot for sandcastles and shell hunting.
What to consider:
No lifeguards on duty.
No public restrooms. The nearest restroom can be found at the Lahaina Center .7mi away. Plan accordingly.
Plan your visit around high-tide. Because it is so shallow here, it can be difficult to swim during low-tide hours.
Watch out for the reef. Stepping on a sharp coral head or wana is no fun. Not only do you want to keep yourself safe, you also want to protect and preserve Hawaii's delicate reef systems.
Pro-tip: Should you be unlucky and step on a wana, you need to be very careful treating the injury. First remove any visible spines, but DO NOT try to pull out spines embedded in the skin. Wana needles are made mostly of calcium carbonate and are very delicate. Trying to remove them with your fingers or tweezers will only break them into smaller pieces and cause more pain and discomfort.
The best treatment is to soak the injury in vinegar. Or, if you want to do as the locals do, urinating on the needles works too.
A Quick List of Not-So-Great Beaches for Kids
Big Beach, Makena / Little Beach, Makena
It is conflicting to suggest that Big Beach is not worth visiting, even with children. It is easily one of Hawaii's most magnificent and pristine beaches. There are, however, aspects that make visiting this beach with kids a bit tricky.
First, Big Beach is famous for its shore break. Swells up to 20ft crash onto the sand making it very dangerous for inexperienced swimmers. It is also dangerous for strong swimmers not used to these conditions. Maui's best and most vocal lifeguards go above and beyond to keep people safe. They will not hesitate to call you out of the water with mega phones if they decide you shouldn't be out in the surf.
There are also no public showers and the public restrooms are porta-potties.
If you are looking for Little Beach, Maui's famous nude beach, this is where you'll find it. Just over the cliffs on the North-End of the Big Beach is the secluded bay. Little beach is also very beautiful, but also not strongly recommended for children. Nudity aside, the ocean here is rough and not great for swimming.
Ka'anapali Beach, Ka'anapali
Ka'anapali Beach is a beautiful stretch of white-sand and blue water that lines a row of West Maui resorts. Though postcard worthy, this beach is not the best for kids.
Unless you are staying at one of the lining resorts, getting to this beach can be a headache. There is one free public parking lot, right before the Hyatt. It has very few stalls and fills up fast. The other parking option is the paid parking garage at Whalers Village. Expect to pay $3 every half-hour unless validated by a Wailer's Village merchant.
Water conditions at Ka'anapali beach are unpredictable. Currents pull in all directions and large sets are known to come through.
It is also very hot. There is little to no natural shade.