We want you to love Maui as much as we do, so we partnered with a number of tours and excursions to provide you the best experience. We may make money when you click on the links.
Let's be honest, helicopter tours can be expensive. So if you're looking to experience the aerial views of the Valley Isle without the steep costs, Maui Plane Rides is a perfect option for you and your family. Maui Plane Rides offers the highest ranked and lowest priced air tours on Maui. Rated #1 on Tripadvisor as the top activity in Kahului, and rated the #8 Overall Experience on Tripadvisor in the entire United States for their 5 Island Discovery Tour, these deeply discounted tours are not only longer and more expansive in range than most helicopter rides, but are safely piloted by FAA pilots and flight instructors with years of flying experience. So let's take off and explore the top reasons we love Maui Plane Rides, and suggest all visitors experience Maui from the sky with them.
1. Warm Aloha and Mementos to Last a Lifetime
From the minute we parked our car at the airfield, we were greeted with warm aloha and adorned with flower leis by our pilot, owner and founder of Maui Plane Rides, Eric Brill, before being escorted to our plane and given a complimentary photo shoot. In between educating us about Maui and talking story, our pilot continued to snap shots of us throughout the tour, so that when we landed, we were able to walk away with a digital album full of memories.
2. Fun for the Whole Family
Our pilot, Eric, not only showed deep caring and warmth to everyone in our party, but he made a noticeably special connection with the youngest guest in our crew, an enthusiastic four year old who loved planes nearly as much as Eric. Aside from top-notch customer care, the flight was an engaging and exciting way to view the beauty of Maui from a bird's eye view.
3. Safety First
Before boarding our flight, we were given a full safety briefing about the aircraft. All safety precautions were thoroughly explained, and we were each given a lightweight life jacket. The safety briefing ensured a feeling of confidence in our pilot, and the meticulously maintained aircraft provided a safe, smooth and stable flying experience for everyone.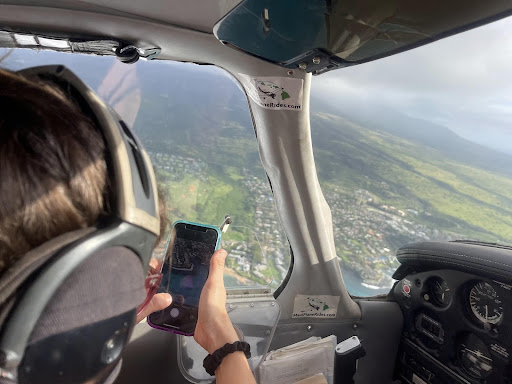 4. Beautiful Views
Since 80% of Maui's incredible biodiversity and natural beauty can only be seen from an aerial view, Maui Plane Rides treated us to an elevated vision of wonderment that would have been missed if we were ground-bound. Each and every passenger in our party got their own window seat (which differs from helicopter tours where undoubtedly one person will be in the middle seat on the back bench of the aircraft). Maui Plane Rides' airplanes have non-tinted clear windows, and are the only aircrafts on the island with a fully opening camera-port window for crystal clear shots.
5. An Intimate Day in the Sky
With the choice of a 3- or 5-seater private charter propeller plane, we were able to avoid touring the island with strangers, making this an intimate event to share with the members of our party.
6. You Can Be Pilot for a Day
Perhaps one of the most unique offerings on Maui Plane Rides is their U-FLY: Hands-On Pilot Experience, offered on all of their tours. Each member of our party was invited to experience a hands-on aviation adventure where we had the opportunity to fly the aircraft from the pilot seat. Guests as young as 5 to 95 have flown these planes, so we knew that our pilot, Eric, would make us feel very safe and secure as we piloted a thrilling journey that soared above whales breaching below in the Pacific. This was a memory unlike any other we have made on tours in Maui, and something we will be talking about for years to come.
7. Freedom to Choose
Maui Plane Rides offer several different tour routes that glide over Maui, but if you're looking for something even more personalized based on your interests and what you'd like to see from the sky, you can choose your own flight path on an even more exclusive chartered flight. Their Photo Flight Air Tour is a 30-minute Private Air Tour where you choose your path: (1) through the Maui valley, over Kihei town, Molokini Crater and lush sugar cane field; or (2) along Maui's North Shore, over Paia, the famous 'Jaws' huge surf break, gushing waterfalls and along the road to Hana; or (3) along Maui's majestic North-West coastline and over famous Honolua Bay, Kapalua, and spectacular West Maui resorts and golf courses before returning for landing. We were thrilled to experience the Photo Flight Air Tour over Maui's magnificent North-West coastline. Not only did everyone in our party see breathtaking views through the clear-tinted window seats, but with exclusive access to the camera port window, we were able to snap some epic photos of the exquisiteness below.
5-Island Air Tour
Ranked the #8 Overall Experience in the entire U.S. on Tripadvisor, the 5 Island Air Tour is a one-of-a-kind private thrill ride where you'll glide past Maui, Molokai, Lanai, Kaho'olawe and Molokini crater as well as Maui's Lava fields before floating through Maui valley towards a smooth and gentle landing. This 90-minute spectacular viewing experience is certain to be held as a cherished memory for the rest of your life.
8. The Price is Right
Maui Plane Rides offers the lowest priced fares for the highest ranking air tours on Maui. With their affordable rates, we not only receive a tour of a lifetime, but we had the added bonus of staying within our allotted budget for our trip.
9. Sunset Romance
Maui is an intoxicatingly romantic island and one of the most exquisite ways you can wow your honey is by booking an intimate Romance and Champagne Private Air Tour with Maui Plane Rides. Departing 30 minutes prior to the Valley Isle's ethereal sunset, you can toast your sweetie with complimentary champagne while luxuriating in an exclusive direct Maui sunset viewing from the most enchanting angle of anyone, anywhere on Maui, before landing 30 minutes later bathed in the twinkling starlight of the night sky.
Final Thoughts
Maui Plane Rides was one of the finest tours we've had the pleasure of attending on Maui. Between our pilot's kind aloha, momentous keepsakes and the thrill of flying the aircraft, we never would have expected such a deeply affordable tour to rise far and above our expectations. We highly recommend Maui Plane Rides as one of the best things to do on Maui for families and couples alike.